Interview: Inclusive dance company Propeller Dance and artistic associate Liz Winkelaar
By Jessica Ruano | December 3, 2021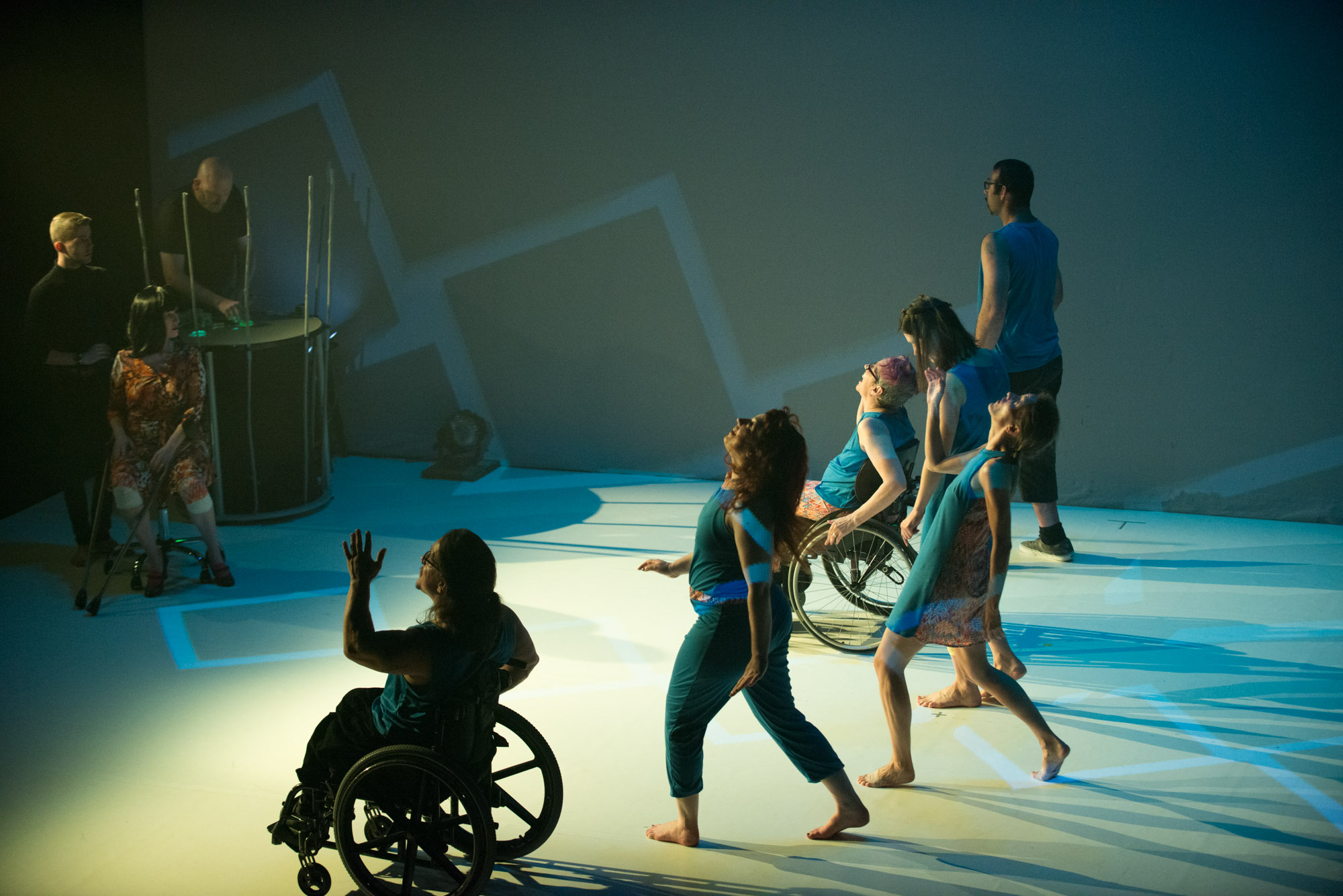 This interview was originally published on Apt613.ca
Founded in 2007, Propeller Dance is recognized as a leader in Canada for their innovative, inclusive creations and teaching practices, and for demonstrating that dreams can be achieved for people of all abilities. At the core of their work is the belief that dance is for all people, and as wide a breadth of expression as possible is of value. Artistic associate and company dancer Liz Winkelaar speaks about Propeller Dance as a role model for students and the community.
MASC: Propeller Dance is described on your website as an "innovator in the field of contemporary integrated dance." What does inclusivity mean to you, and how does it lead to innovation in dance?
Liz Winkelaar: We are all learning all the time what inclusivity means. For us, it means looking at who has been excluded from the dance world and trying to include. In my case, I use a wheelchair all the time, so that has to be considered when we are looking at dance studio space to rent. It can be that simple. But traditionally, many bodies and minds have been excluded from the dance world, so we have to really reach out and learn about other people and their needs in order to be more inclusive. As choreographers, we are continually faced with delightful new puzzles. Innovation is the artistic result of creative and collaborative problem-solving.
Your work touches on a number of broad themes, from disability rights to dysfunctional workplaces or our relationship to intimacy and technology. What inspires the work you choose to create?
Often, inspiration comes from our own lived experiences as dancers and people with disabilities. Most of our repertoire has been choreographed by co-artistic directors Shara Weaver and Renata Soutter. The piece that I choreographed, Spasticus, was inspired by the work of British punk rocker Ian Dury and the disability rights movement, particularly how artists responded and contributed to the movement. We are often shedding light on the perspectives, the voices, the bodies that haven't taken up enough space on stages, and even the venues (such as outdoor spaces) that haven't had dancers of all abilities roll through. Our Canada 150 project was an epic theatre and site-specific experience that had a boomerang effect of inspiration: from the site, from the dancers to the audience and back again.
You were recently on tour with Flesh and Spokes and Spasticus. How is the experience of touring different for an inclusive dance company? What considerations did you have in relation to working with venues and travel?
It took a lot of planning and organization by a fabulous team to take such a huge group to Toronto for a whole week. We made a particularly boisterous and colourful travelling party! We had 25 people and many of us have disabilities. Fortunately, we have a great relationship with the presenter DanceWorks. Renata and I travelled to Toronto a year before the show to scout things out and meet the presenters.
"It is complicated for us to tour but it's so worth it."
It is complicated for us to tour but it's so worth it, because we were able to perform before a whole new audience in a fabulous dance venue. At one point, we thought we would have to cancel the matinee due to the work action in schools, but we were able to reach out to community groups and organizations and we had more than 80 people attend the matinee and a huge number of those people were people with disabilities. We were very proud and happy that we could perform for people who might not be able to get out to an evening performance.
You have talked about the difficulties in being welcomed by the dance community and potential presenters. How do you continue to thwart misconceptions about your company?
I think being presented by DanceWorks was a big step, and that's part of the reason we were so excited about the gig. Presenters are starting to understand that it's not simple to have us come and perform because we do have accommodation needs—but it's worth it because our work is new and exciting and cutting-edge. I must say that the dance community in Ottawa definitely sees us as an exciting and integral part of the milieu and we feel very connected to the local community.
As a member of MASC, what do you gain through offering your workshops and performances in schools and in the community?
It allows us to connect with young people in the school, and that's very important in keeping our work accessible and real. We don't want our work to resonate only with the artistic community, but to be relevant to young people in their lives. MASC holds that special place where passion meets art, and we feel that that is a place where we can show what we do and the young people know that performance is something special. It's a place of learning and sharing that is a benefit to the artists as well as these students.
Why do you think it's important for our local community to have access to professional artists?
Children need role models. We are demonstrating that people with disabilities can and do create performance and dance. We are treated like rock stars when we visit schools, and that's a really great feeling. Another thing that happens is the students who have disabilities feel really proud and happy to connect with us, because they recognize themselves in us. Every young person needs that dream, that role model, someone who they can recognize is being fulfilled through their work.
A couple of years ago we were given the honour of presenting awards to MASC scholarship recipients. We really felt connected with those young students who were so devoted to their own art. That event really helped me realize how interconnected we all are and how happy I am to have to have opportunities for intergenerational connection.
Propeller Dance recently presented an online film screening of Circuit. How else has your company adapted to our changing artistic environment under COVID-19?
It was a huge success. We had over 100 people in our audience and 50 people in our talkback including some of the dancers, the musicians, and the filmmaker Ed Hanley. It was fabulous having an online talkback because there was more time and space for people's comments than you would get in the theatre.
We have continued to offer recreational classes online as well as our weekly company class. We will continue to provide a sense of community, movement opportunities, and engagement. We also recognize that people with disabilities sometimes have extra barriers to online participation and we try to work with individuals to encourage them. Fortunately, we have fabulous teachers who have strong connections with their students. Also, many of us have been moving together for years so we can sense each other—even through a computer!